Jammin' with Joe!
Drum Circles for Healing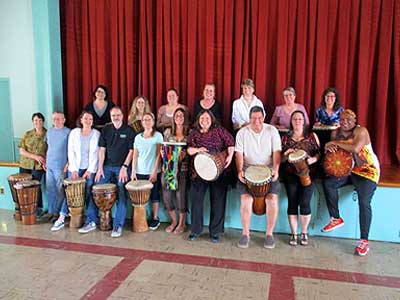 The purpose for this program is to inspire growth and transformative healing in individuals and families who are facing difficult life challenges. Through wisdom sharing, experiential learning and community partnership building, we support others in finding balance and conscious well-being to continue the growth and healing. A drum circle itself is a metaphor for community with individuals of many beliefs and backgrounds coming together to share in a vision of healing and growth.
There is a need for holistic, alternative resources and education to improve quality of life. There is also a need for community and a sense of belonging. Group drumming, breathing and meditation can bring a sense of connection that inspire healing and hope.
---
Benefits and Purpose of Drumming:
Experience drumming for wellness and creative expression
Learn fun rhythms that you will always remembe
Reduce your daily stress and ignite your creativity
Release tension and anxiety
Exercise your body, mind and spirit
Learn new relaxation and meditation techniques
Improve your immune system
Transform something in your life
Enjoy in the moment music making
Participate in drum circle spirit
Become empowered by your innate rhythm
To get the great benefits of this program, we suggest you attend all sessions!
We currently provide programs for Guiding Hearts With Hope. To see our current schedule, please click HERE. This program is also available for Day Care Centers, Pre-Schools, Classrooms, Youth Ministries, Retirement Communities, Birthday Parties, and more. To schedule a Jammin' with Joe event, please call Joe Clark at 717-479-3740.